Print isn't an eco-enemy!
As we start 2020, we look to continually evolve the business and embrace best practice. As such we have been looking at our approach to sustainability and our recommendations to clients on 'environmentally friendly' projects. Some of our clients have already told us that they want to reduce their carbon footprint and therefore have decided to cut back on printed campaigns. But is reducing the number of print projects and going digital actually better or worse for our environment?

Digital vs print
As discussed in our previous article 'To print or not to print' (shameless plug to visit our website) we discussed the pros and cons of print. In our digital driven age, it's all about the visual. But what about touch? Print is tangible - 60% of consumers make a brand their first choice when it engages their senses. But it's not just about engaging senses nowadays – with Generation X being 'woke' they want to know that industries are protecting the environment and their products are ethically sourced.
With 1.1% of the world's greenhouse gas emissions, the value chain of pulp, paper and print is one of the lowest industrial emitters. Compare that with the recent study which revealed that spam email could be wasting 33 billion kilowatt hours annually. That's equivalent to 3.1 million cars using 2 billion gallons of petrol from a greenhouse gas emission perspective.
Scary stat alert - "One email with a 400k attachment sent to 20 people, is equivalent to burning 100w light bulb for 20 minutes." BBC, Costing the earth, Global Warming, April 2009

Saving the environment or saving money?
We all want to 'do our bit for the environment' – but what does that actually mean in practical terms?
The environmental benefits of going digital aren't yet entirely clear, but many companies are keen to embrace digital as a form of cost efficiency. The attraction of cutting costs definitely motivates companies to reduce or eliminate their paper documents by going electronic. But the fact remains that paper can be recycled, recovered, and reused. Recycling programs are widely available nowadays, and the processes have become more efficient and sophisticated.
The printers we work with are committed to supporting printing sustainably. Some have switched to lower emission solvents and inks. Many recommend digital printing as it is a greener option for small-run printed material and wastes less paper and requires less energy to operate.
Together these efforts are making the print and paper industries more socially and environmentally responsible. And that can't be a bad thing.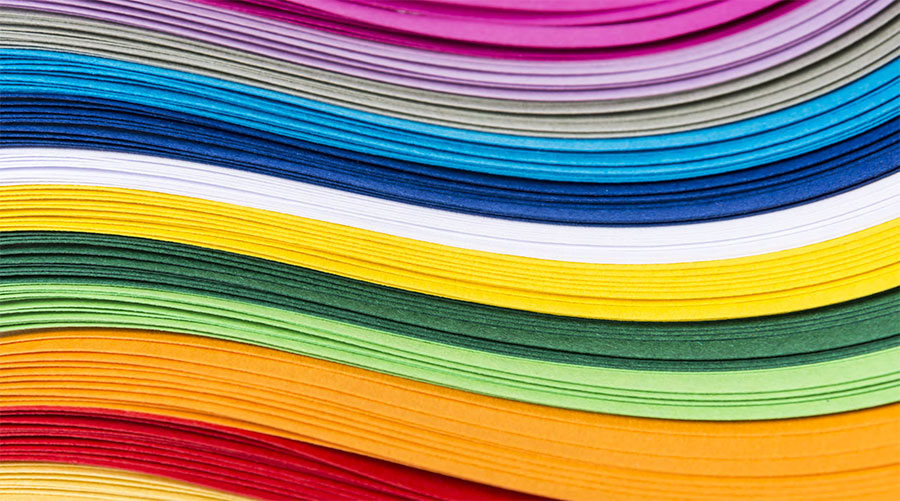 Be a tree-hugger!
Contrary to popular belief, it's not the paper and print industry that's destroying the rainforest (palm oil anyone?!) Much of the paper used in printing today comes from recycled sources – in fact over 5.15 million tonnes of paper was recovered by recycling in the last year. Even direct mail is going greener. A recent statistic indicated that 70% of today's direct mail comes from recycled sources. And while we're on the subject - the paper industry plants three times more trees than it cuts and is working hard to maintain and increase woodland habitats across the globe. Nice work print industry!
Dr. Patrick Moore, Greenpeace co-founder had it right when he said; "To address climate change, we must use more wood, not less. Using wood sends signals to the marketplace to grow more trees."
While the Cepi Sustainability Report, 2011, quoted that "The European Paper Industry has reduced the CO2 emissions per tonne of paper produced by 40% since 1990."

Eat more carrots
How many of you are aware of the 'dark data' phenomenon? 'Dark data' is defined as the 'information assets organizations collect, process and store, but generally fail to use' according to Gartner.
Most businesses collect data. But the amount of data they collect can be overwhelming and is often ignored. Dark data is often retained for compliance purposes but sits in archives of storage hardware. Storing (and securing) this data, as well as incurring cost, uses a lot of energy. But on a personal basis we're all guilty of keeping files on desktops and forgetting about information on USB sticks. So, whenever you browse the web or type up a report, your computer is powering this hidden mass of dark data. And unsurprisingly, all this extra data consumption requires extra energy. Are you off to clean up your desktop now?!
The Institute for Sustainable Communication wrote a white paper 'Print vs. digital media: false dilemmas and forced choices'. Alarmingly it concludes: "The growing energy demands of consumer electronic devices, desktop computers, cellular networks, internet servers and data centres are contributing to the destruction of more than 500 mountains and over 600 square miles of forest."
That'll make you think before you open a spam email!

Here at Platinum HQ, we'll always strive do business as sustainably as possible. If you want to chat about a print or digital project, get in touch and we can discuss what would work best for you.