Bruce Stevenson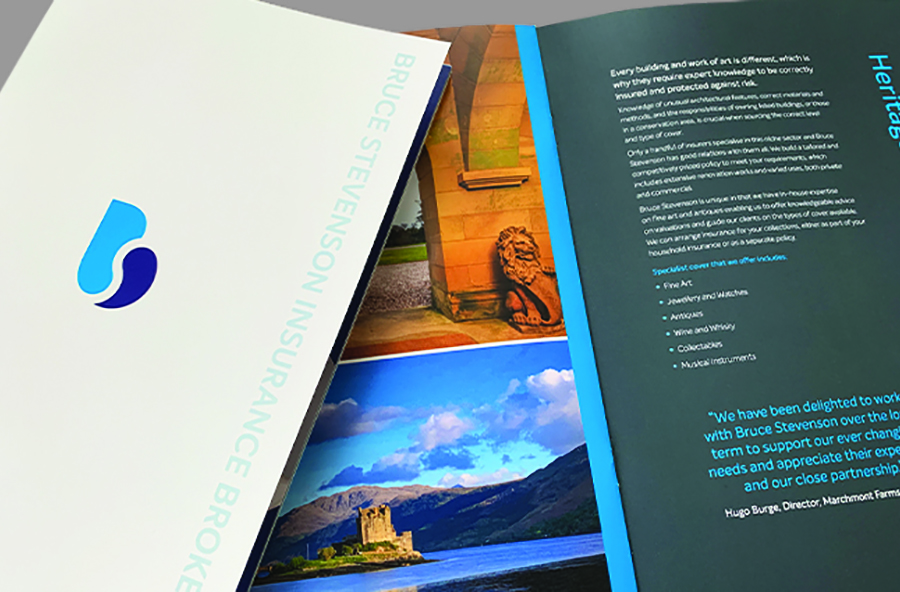 Bruce Stevenson has been one of our longest standing clients and we have evolved the look and feel of the business over the last 8 years.
Having created and implemented a brand refresh in 2018, it was time to update the corporate brochure to reflect the progressive nature of the business.
The brief was to make the overall look fresh and contemporary, with great imagery and copy doing the work. Cross selling is a key part of the business so including a page dedicated to the wide variety of insurance Bruce Stevenson manages, needed to be included.
The right choice of print stock makes all the difference. We spent a lot of time sourcing just the right stock that would showcase the imagery as well as being tactile for clients. Working with the team at BSIB, we settled on a velvet stock with a soft touch laminate cover applied with spot varnish to the front. The white outer keeps it bright and fresh and full colour images on the inside 'pop' as you go through.
As well as being used at industry events, they were sent out to key clients, eliciting incredibly positive feedback. The brochure is also available online.
We're now working on the third edition of 'The Shield', the newsletter that is sent out twice yearly to clients of Bruce Stevenson. The first and second edition of the newsletter is available on the Bruce Stevenson website as well as in a printed version.
Keep your eyes peeled for the next edition of 'The Shield' in early 2020!